@David_Killens I do not trust the guy in this picture, especially with the moose horns.
If that's you, then I send my deepest sympathies and condolences to your family, especially your wife and your parents, and will keep them in my thoughts and prayers.
@David_Killens Groucho Marx was a comic legend. A comic freaking legend. Full stop.
I hope you have custody of your kids. They shouldn't have to be around a strung- out,manipulative bitch like that. Depending on their ages, they may need counseling also, either privately or as a family(not including her). I wish you and your family luck.
I stopped looking for "Causes" 40 years ago. Drug users use drugs because they want to. Because they "want to" one 'cause' is just as valid as any other 'cause.' Listen to an addict long enough and they will blame every fucking thing on the planet for their drug use. The only important thing is "What reason do you have for stopping?"
It depends on what you do with it. IE not harming others or oneself, by hiding it.
We can't control our motions, but we can control our behaviour.
I have always tend to implode. Over compensation because of what happened the last time I lost my temper, in 1964. Tried to kill a bloke. Didn't hurt him. I was so lucky. I was 17.That one loss of control could have destroyed my life.
Bullshit
An atheist is only a person who does not believe in gods. Nothing else is implied or may be inferred.
Atheism is not a psychological state, a philosophical position. Does not have a special set of morals and ethics. Nor is it a political ideology, a club or organisation.
We are not like or different from ordinary people. We are ordinary people.
Indeed. They and other ordinary people do not need a 'why', an excuse. On the other hand, the addict will always try to justify/excuse their use.
@Cognostic I wholeheartedly agree with this. Sounds similar to Cognitive Behavioral Therapy.
@boomer47 Nope. Atheists like you folks seem to be a lot more sensible, logical and rational than the theist or religious believer, as well as more knowledgeable in logic, science and reason. You guys rock.
In context and the wording is accurate "seem"… I accept the compliment. However given the quality of counter arguments presented on the forum… I accept it in relation to the level of opposition. lol
only one of the MANY atheists folks here… include yourself - AND everyone brings their own approach and POV. I learn something new here, or re-learn, everyday.
Hi kind of you to say. However I must admit some of use real [metaphorical] rocks.
Yes, there are some pretty interesting people here. However, the views, reason and compassion often shown have nothing to do with Atheism.
In my experience, being atheist is descriptive of a single issue; the existence of god(s). It does not define who we are… That is far more complex.
Plus, IMO the folks one sees on forums such as this tend to be atypical compared with the broader community. The give devil his due, (if you'll excuse the expression) Same goes for at least some of the believers we get here. Most I've met in real life lack the courage and the chutzpah to come to an atheist site.
@Cognostic That's what my ex wife does when it comes to her meth addiction. She's always playing the victim and the "poor me" act. Her excuse for walking out on the kids and leaving them with me full time was that me and my whole family is to blame. Even though we had 50/50 joint custody. She does what she wants and then when people call her out on her shit. She goes into victim mode.
My preferred mode of operation as I am an exestentialist and do believe gognition preceeds emotion. The idea that one has an emotional response to someting not yet understood is just not evidenced. Kiwi's and Dodo's are dying proof of this. A small child, who has not yet learned of the danger, will walk up and pet the pretty kitty, just before becoming a tiger's blue plate special. How one languages his or her world is everything.
Well you would, I'm under the impression you use the cognitive model in your work. (?)
I'm not completely convinced. I think that say the fight flight/ response seems to be pure instinct. At one time it would have been a matter of life or death. Still can be in some circumstances.
However I went to a cognitive psychologist for seven years. I did my best to do as she suggested and it worked ,mostly. With her and my shrink, I went from a fucked up ,suicidal mess, to (her words, 3 months ago) "A psychologically healthy man" .So I'm in no position to dismiss cognitive psychology. I simply have some niggles. I'd be worried if I didn't.
It rarely comes up to be honest, I don't think religion is all that important in the UK, thankfully.
But I would always say that my personal opinion is that there is no god at all and the notion is on par with a belief in neon purple intergalactic space kangaroos, orbiting Neptune.
Time to grow up.
Robin Williams described C of E/ Episcopalian as 'catholic lite'
He also described cricket as baseball on valium. This the pithiest description of cricket I've ever seen
Are you seriously saying you don't believe in space kangaroos. Are you a troll?
Found it!. Sir Humphrey explaining the Church Of England.:
Quote "Theology is a device which enables agnostics to remain in the church"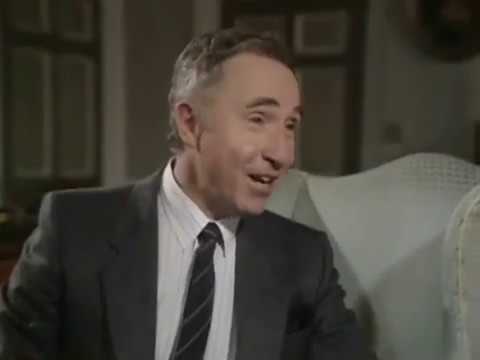 Haha I love that and it's pretty spot on!
Most conversations I have had in England when the subject rears its ugly head has been on the lines of…
"So you don't believe in God?"
"Absolutely not, it's no different to santa claus"
"Ok"
"How about you?"
"I believe in something"
"Like what"
"I don't know"


I think another great thing was how people for the most part took quite seriously an old saying on regards to what one would talk about in public…
"Never discuss religion, politica or your salaries, someone always gets upset!"
It's generally useful, however, not a panacia. There are many modalities in the cognitive framework. More importantly is the idea of working exestentially. My assertion is that all models of psychotherapy facilitate change in the here and now. Being direct about it, brings change about faster.
Look at psychoanalysis with "regression therapy." The therapist creates a safe environment for the client to discuss his or her problems by pretending the problem is not happening here and now. It happened when the client was a child. It happend when the client was a different person. It happened at a different time and yet the client is still behaving "here and now" as if it is happening here and now.
This is a method called "disqualification." We discuss issues, without actually discussing them. We talk about different times, places, people or events and "unconsciously" the client catches on, we are discussing him or her.
A child that will not follow the rules at home:
The child admits to likeing puppies. So what if we go out and buy you a puppy. Would you like that? (Of course) What would it look like (Get a full description/) What would you name it? (Get a name.) How would you care for it? (Make it as visually real as possible.) Remember we are discussing this child not following rules at home.
Now pretend the puppy bites you. What do you do. Then he bites you again. When you try to pet him he growels. He shits on the floor and destroy's your property (I probably know some property the kid owns at this point.) The kid tries to train the dog, but the dog does not train and keeps up the bad behavior.
(A smart ass kid may discover the ruse at some point and accues me - "Are you calling me a dog!" It has happened. No. I thought we were talking about (name) a make believe dog. Did anything in that story sound like you?
Anyway, therapy consists of ways to deal with the misbehaving dog. Away from the here and now. But for change to take place, it must take place here and now. And during all of this, Gestalt language changes are used, (I need is changed to "I want.") (It's terrible is changed to - "I don't like it when…") (Should, must, need to, have to, etc… are all eliminated.) All absolute thinking is challenged.
At any point or at any turn some technique from some branch of psychology is likely to show up. I don't know what will happen much of the time, unless I have decided on a specific intervention. Even then, I can abandon it if I feel it is heading no place. The session is not about me discovering what is going on with the client.
RE: Fight or Flight — "Even a baby will walk up to a hungry tiger to pet it." These things are learned by humans. Interesting is that it takes several weeks of crawling for babies to learn not to crawl over a drop off. And then re-learn and re-learn.
@Whitefire13 It is a compliment. I used the word "seem" because I know how much making definite statements can get you in trouble, unless you have proof to back them up. But what I say is true, from both my observations of, and experiences with, atheists like you folks, so keep up the good work!