16 days … wow.
For whoever fixed this problem, thank you.
What the hell happened? I missed everybody.
Well done, I wasn't concerned at all, honest.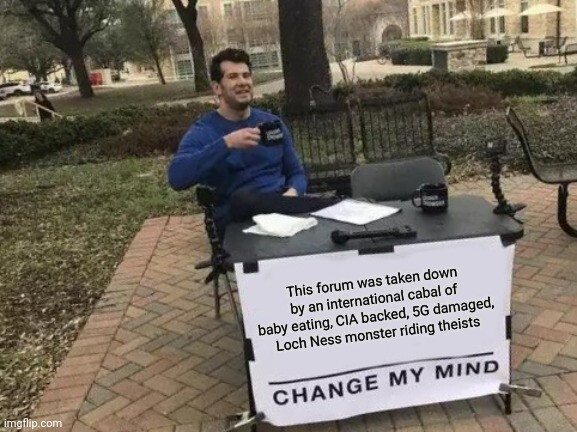 That felt like forever. Is it DDOS attacks?
Over my two years here I have witnessed the occasional short term outage and attributed it to DDOS. That being said it takes a lot of resources to sustain a DDOS attack over many days.
Distributed denial of service attack….its used to disrupt traffic to a given site.
Hackers plant a program into many other computers, and on a signal, all of them send requests to one IP. All of a sudden a server gets hundreds of thousands incoming requests. It overloads the server.
…(bashing out from bathroom door… tumbling to floor into hallway… gasping for air)… WHAT… (gasp)… THE… (gasp)… FUCK???.. (gasp-gasp-gasp)… What day is it?.. (heaving cough-cough-cough)… How long was I in there?.. (struggling to get on hands and knees… heavy panting)… Went into the bathroom… (cough-cough)… Saw the horror left behind by Cog… (dry heaving)… Immediately turned to exit, but the lights suddenly went out and the door locked tight… (cough-cough-cough)… Didn't know what happened. It was HORRIBLE!.. (anguished cry)… WHO THE HELL TOOK THE BANANA PEEL OFF THE DOORKNOB???..






(Edited for therapy.)
Uh, well I uh, you know, I uh, was just trying to uh, straighten up a bit and sometimes I get carried away and forget about the warnings…so sorry for any irreversible shock or injury which may or may not have been sustained as a result of my seed-induced obsessive compulsive "tidying up"…
Edit for giggling
I guess Tin-Man hasn't figured out that I stole his junk jet.
Well, one man's junk is…
Edit scrapyard accumulates
I missed you guys. It is nice to be back in action here.
Thank you. I sometimes think I am the most ignorant person I have ever known.
About acronyms, I mean.
Get in line. I don't understand what anyone below 30 is talking about. It's worse when they are under 20.