The first speaker Jerome Baggett was humorous in his silliness.
Faith and Secularization: A Dialogue (Catholicism in Dialogue)
I am watching it now and thought of you all.
Now it's the author of "The Nones are All Right"
This seminar was a hoot. They were all completely clueless. It was the flip side of listening to my priest talk about sex. He sounded like a 14 year old school girl.

Hi, just a reminder that you're receiving this email because you have expressed an interest in The Hank Center for the Catholic Intellectual Heritage. Don't forget to add mmurphy23@luc.edu to your address book so we'll be sure to land in your inbox!
You may unsubscribe if you no longer wish to receive our emails.


The Joan and Bill Hank Center for the Catholic Intellectual Heritage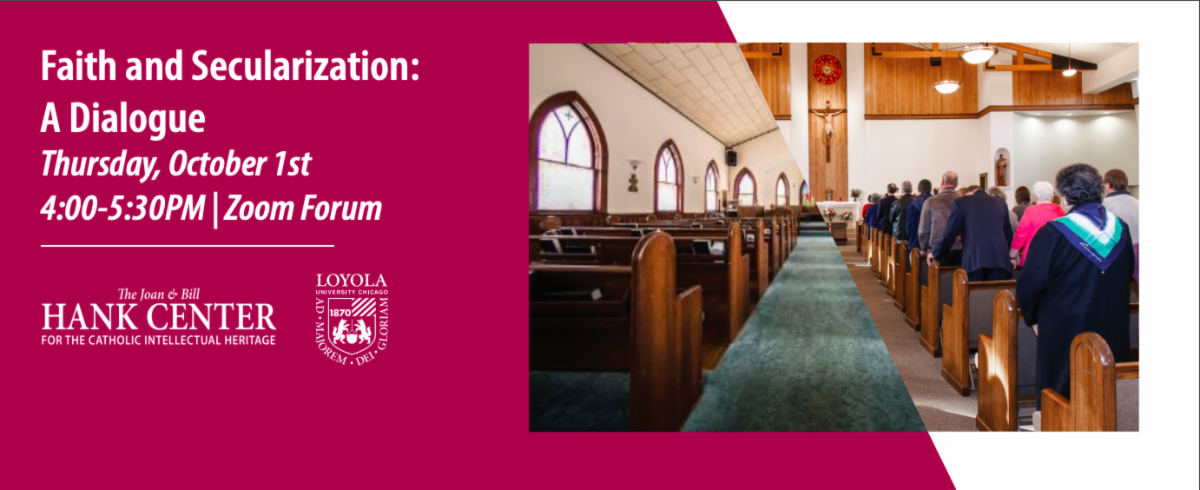 Please join us October 1 for
Faith and Secularization: A Dialogue
October 1st, 2020
4:00-5:30 PM CDT
Zoom Forum
Featuring
Jerome Baggett
Paul Lakeland
Kaya Oakes
Our panelists have engaged issues of faith and secularization in significant ways in their work–from the organization of "free thinkers" in the 18th century, to the decline of religion in some quarters in the 19th and 20th centuries, to the rise of the "Nones" in the early 21st century. Jerome Baggett's recent book The Varieties of Nonreligious Experience: Atheism in American Culture , which focuses on the inner lives and experiences of atheists, will be the jumping off point for our discussion. This work will open up onto larger questions of the relationship between secularism and belief, the religious dimension or instinct in human life, and current practices, particularly in the U.S.
This Zoom event is free and open to the public. Registration Required .
For more information, please visit our website.
UPCOMING EVENTS
10/15-16 Laudato Si' @ 5: Capitalism, Culture, and the Technocratic Paradigm
10/28 Election 2020: The Catholic Vote

Loyola University Chicago, The Hank Center for the Catholic Intellectual Heritage, Cuneo Hall, Room 428, 1032 W. Sheridan Rd, Chicago, IL 60660
SafeUnsubscribe™ annw2@ptd.net
Forward this email Update Profile About our service provider
Sent by mmurphy23@luc.edu powered by



Try email marketing for free today!